Grenache Red Wine Blends Beautifully
Grenache (pronounced gren-ash)
is one of the most widely planted red wine grape varieties in the world. It ripens late, so it needs hot, dry conditions such as those found in Spain, the south of France, and California's San Joaquin Valley. It is generally spicy, berry-flavored and soft on the palate with a relatively high alcohol content, but it needs careful control of yields for best results. It tends to lack acid, tannin and color, and is usually blended with other varieties such as Syrah, Carignan and Cinsaut.
Grenache is the dominant variety in most Southern Rhône wines, especially in Châteauneuf-du-Pape where it is typically over 80% of the blend. In Australia it is typically blended in "GSM" blends with Syrah and Mourvèdre. This red wine grape is also used to make rosé wines in France and Spain, notably those of the Tavel district in the Côtes du Rhône. And the high sugar levels of Grenache have led to extensive use in fortified wines, including the red vins doux naturels of Roussillon such as Banyuls, and as the basis of most Australian fortified wine.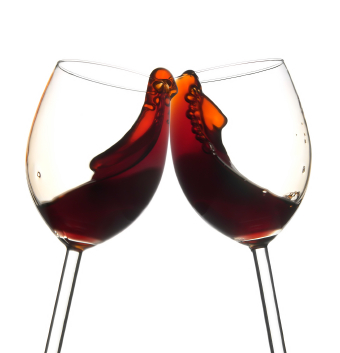 The red wine grape vine is characterized by its strong wood canopy and upright growth. It has good wind tolerance (which is useful in the Mistral influenced Rhone region) and has shown itself to be very suited for the dry, warm windy climate around the Mediterranean. The vine buds early and requires a long growing season in order to fully ripen. It is often one of the last grapes to be harvested, often ripening weeks after Cabernet Sauvignon. The long ripening process allows the sugars in the grape to reach high levels, making Grenache based wines capable of substantial alcohol levels, often at least 15% ABV. While the vine is generally vigorous, it is susceptible to various grape diseases that can affect the yield and quality of the grape production such as coulure, bunch rot and downy mildew due to the vine's tight grape clusters. Marginal and wet climates can increase it's propensity to develop these viticultural dangers. The vine's drought resistance is dependent on the type of rootstock it is planted on but on all types of rootstocks, this red wine grape seems to respond favorably to some degree of water stress.
Grenache prefers hot, dry soils that are well drained but it relatively adaptable to all vineyard soil types. In southern France, it thrives on schist and granite soils and has responded well to the stony soil of Châteauneuf-du-Pape with the area's galets roulés heat retaining stones. In Priorat, the crumbly schist soil of the region retain enough water to allow producers to avoid irrigation in the dry wine region. Vineyards with an overabundance of irrigation tend to produce pale colored wines with diluted flavors and excessive alcohol. The skin of of this red wine grape is thin and lightly pigmented, making wines with pale color and low tannins. Older vines with low yields can increase the concentration of phenolic compounds and produced darker, more tannic wines such as those found in the Priorat region of Spain where yields are often around 5-6 hectoliters/hectare (less than half a ton per acre). Yield control is intimately connected with the resulting quality of wine with yields below 35 hl/ha (2 tons/acre), such as those practiced by many Châteauneuf-du-Pape estates, producing very different wines than those with yields closer to 50 hl/ha (5 tons/acre) which is the base yield for Appellation d'origine contrôlée (AOC) wines labeled under the Côtes du Rhône designation. The strong wood canopy of this red wine grape makes the vine difficult to harvest with mechanical harvesters and pruning equipment and more labor intensive to cultivate. In highly mechanized wine regions, such as Australia and California, this has contributed to a decline in the vine's popularity.



While this red wine grape is most often encountered in blended wines (such as the Rhone wines or GSM blends), varietal examples of Grenache do exist. As a blending component, it is valued for the added body and fruitiness that it brings without added tannins. As a varietal, the grapes naturally low concentration of phenolics contribute to its pale color and lack of extract but viticultural practices and low yields can increase the concentrations of phenolic compounds. Grenache based wines tend to be made for early consumption with its propensity for oxidation make it a poor candidate for long term aging. However, producers (such as some examples from Châteauneuf-du-Pape and Priorat) who use low yields grown on poor soils can produce dense, concentrated wines that can benefit from cellaring. The fortified vin doux naturels of France and Australian "port-style" wines are protected from it's propensity for oxidation by the fortification process and can usually be drinkable for two or three decades.
The characteristic notes are berry fruit such as raspberries and strawberries. When yields are kept in check, Grenache based wines can develop complex and intense notes of black currants, black cherries, black olives, coffee, gingerbread, honey, leather, black pepper, tar, spices and roasted nuts. When yields are increased, more overtly earthy and herbal notes emerge that tend to quickly fade on the palate. The very low yielding old vines of Priorat can impart dark black fruits and notes of figs and tar with many traits similar to the Italian wine Amarone. Rosado or rosé Grenaches are often characterized by their strawberry and cream notes while fortified vin doux nautrels and Australian "port style" wines exhibits coffee and nutty tawny-like notes.



Return from Grenache to Types of Red Wine

Return from Grenache to Red Wine Home