The Most Popular Types of Red Wine. Make your next choice an EASY one.
The types of red wine can cause confusion. There are about 280 different red wine grape varieties.This can be very noticeable when someone has the open mouthed, dead-eyed starewhile making a red wine choice in a wine store.
Review the 15 grape varieties that make dry red wine, sweet red wine, or the perfect red wine you have been dreaming about.
Find your new Favorite type of red wine below:

Amarone - A rich dry red wine. The release of the wine is usually 5 or more years after the vintage.
Barbera - 3rd most planted grape variety in Italy, and is rarely seen outside the country. There is a wide range of variety wines. You will find intense red wines that need to be cellared, to medium bodied fruity wines.depending on the oak used for fermentation you will find the notes point to plumb and cherry.
Barolo - Known as one of Italy's most recognizable and top wines. Rich full bodied wine with noticeable tannins and acidity. Colors vary from ruby, garnet, and brick. They are never opaque. Aromas can be a complex tar and rose, as well as chocolate, licorice, leather, plum, spice and tobacco to name a few.
Beaujolais - French wine made of the Gamay grape. This grape has a thin skin and is low in tannins. The wine has a bluish-red deep color. The aroma is similar to red berries.
Bordeaux - Type of red wine known as claret in the United Kingdom, is made from a blend of grapes. The blend typically is Cabernet Sauvignon, Cabernet Franc, Merlot, Petit Verdot, Malbec, and Carmenere.



Cabernet Franc - Is lighter than Cabernet Sauvignon making a bright pale wine. Its aroma is peppery, tobacco, raspberry and sometimes violets.
Cabernet Sauvignon - Is one of the world's most widely known types of red wine grape variety. Flavors of green bell peppers, mint, eucalyptus, black current, spice, and tobacco. It is its best when aged in oak.
Carmenere - This is Chilean's red wine. imparts a cherry-like, fruity flavor with smoky, spicy and earthy notes and a deep crimson color. Its taste might also be reminiscent of dark chocolate, tobacco, and leather. The wine is best drunk young.

Grenache - Thin skin and lack of coloring allows for production of pale rose. It is a deep red wine as well. The flavor notes are black currant, black olives, gingerbread, honey, leather, black pepper, spices, roasted nuts and black cherries.
Lambrusco - Dry red wine that has been made to also be a sweet wine as well. To figure this one out. If you want dry think dark. The lighter the wine is the sweeter it will taste.
Malbec - Argentina's red wine grape, the Malbec, is a thin-skinned grape and needs more sun and heat than either Cabernet Sauvignon or Merlot to mature. It ripens mid-season and can bring very deep color, ample tannin, and a particular plum-like flavor component to add complexity to claret blends.
Merlot - 3rd most grown grape worldwide. Few types of red wine tend to have medium body with aromas of berry, plum, currant, humus, leather, mushrooms, rhubarb, and tobacco. Herbal notes of black tea, mint, oregano, pine, sage, thyme, and sarsaparilla can be found.
Petite Sirah or Durif - The Syrah refers to small berries of the Syrah Grape by Rhone growers. The Sirah grape was introduced in 1884 in California. Australia's Department of Agriculture started the grape growth in 1908. The Petite Sirah produces dark inky acidic wines. The mouth feel is firm in texture. The aroma is that of black pepper and other herbs. The flavor is of blue and black fruits, and plums.
Pinot Noir - The toughest grape to grow to it fragility and difficulty. This may be one in the same. When this wine is made right nothing can match its perfection. The wine has an extensive bouquets, flavors, textures, and impressions. It is a light bodied wine with aromas of black cherry, raspberry, and currants. Oregon produces my favorite Pinot Noir "Cloud Line".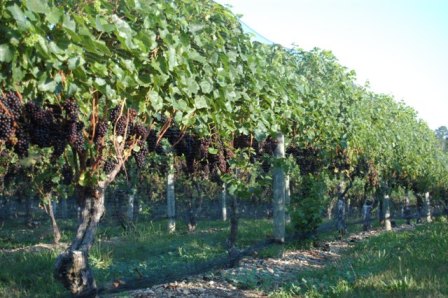 Sangiovese - High acidity with moderate to high tannin content with light color. One of the most recognized type of red wine for aging in a cellar,
Syrah or Shiraz - One of the most popular types of red wine red wine. Shiraz name came to life in Australia, South Africa, and Canada. Syrah name is based on origin every other country the grape is grown in using an old world style of wine making. This red wine type is high in tannins and acidity. The flavors noticed are blackberry, dark chocolate, licorice, cloves, leather, and earth. The aromas you may recognize are mint, smoked meat, and black pepper.
Old Vine Zinfandel - The earliest vines started in 1857 in the United States and many were destroyed during the Prohibition years. The vines are treasured for the making of highly rated red wine. The old vine name is because of the age and the vines produce smaller amounts of grapes. There is something special about this wine that keeps me wanting more.



Return from Types of Red Wine to Red Wine Home

Return from Types of Red Wine to Red Wine 101