Cabernet Franc a lighter Cabernet Sauvignon
Cabernet Franc is one of the major red grape varieties worldwide. It is principally grown for blending with Cabernet Sauvignon and Merlot in the Bordeaux style, but can also be vinified alone, as in the Loire's Chinon. In addition to being used in blends and produced as a varietal in Canada and the United States it is made into ice wine there.
This red wine is lighter than Cabernet Sauvignon, making a bright pale red wine and contributing finesse and a peppery perfume to blends with more robust grapes. Depending on growing region and style of wine, additional aromas can include tobacco, raspberry, and cassis, sometimes even violets.
Records of this red wine in Bordeaux go back to the end of the 18th century; it was planted in Loire long before that. DNA analysis indicates Cabernet Franc is one of two parents of Cabernet Sauvignon, a cross between it and Sauvignon Blanc.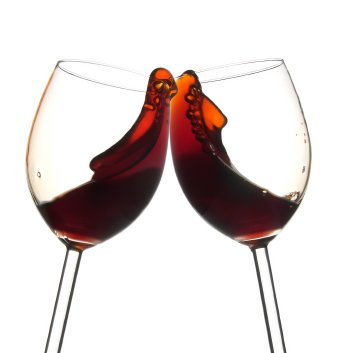 This red wine is believed to have been established in the Libournais region of southwest France sometime in the 17th century when Cardinal Richelieu transported cuttings of the vine to the Loire Valley. They were planted at the Abbey of Bourgueil under the care of an abbot named Breton, whose name became associated with the grape. By the 18th century, plantings of Cabernet Franc (known as Bouchet) were found throughout Fronsac, Pomerol and St-Emilion, making quality wines. As Cabernet Sauvignon became more popular in the 18th & 19th century, the close similarity of the two grapes was observed and theories emerged as to the extent of the relationship. In 1997 DNA evidence emerged to show that it is crossed with Sauvignon blanc to produce Cabernet Sauvignon.



Cabernet Franc shares many of the same phenolic and aroma compounds as Cabernet Sauvignon but with some noticeable differences. This red wine tends to be more lightly pigmented and produces wines with the same level of intensity and richness. It tends to have a more pronounced perfume with notes of raspberries, black currants, violets and graphite. It is often characterized by a green, vegetal strike that can range from leaves to green bell peppers. It has slightly less tannins than Cabernet Sauvignon and tends to produce a wine with a smoother mouthfeel. New World examples of this red wine tend to emphasize the fruit more and may delay harvesting the grapes to try and minimize the green leafy notes.



Return from Cabernet Franc to Types of Red Wine

Return from Cabernet Franc to Red Wine Home