New Zealand Red Wine, Pinot Noir special, unique
---
New Zealand Red Wine go to:
---
New Zealand red wine making and vine growing go back to colonial times in New Zealand. British Resident and keen oenologist James Busby was, as early as 1836, attempting to produce wine at his land in Waitangi. In 1851 New Zealand's oldest existing vineyard was established by the Roman Catholic church on land in Hawke's Bay. Due to economic (the importance of animal agriculture and the protein export industry), legislative (prohibition and the temperance) and cultural factors (the overwhelming predominance of beer and spirit drinking British immigrants), wine was for many years a marginal activity in terms of economic importance. Dalmatian immigrants arriving in New Zealand at the end of the nineteenth and beginning of the twentieth century brought with them viticultural knowledge and planted vineyards in West and North Auckland. Typically, their vineyards produced sherry and port for the palates of New Zealanders of the time, and table New Zealand red wine for their own community.
The three factors that held back the development of the industry simultaneously underwent subtle but historic changes in the late 1960s and early 1970s. In 1973, Britain entered the European Economic Community, which required the ending of historic trade terms for New Zealand meat and dairy products. This led ultimately to a dramatic restructuring of the agricultural economy. Before this restructuring was fully implemented, diversification away from traditional protein products to products with potentially higher economic returns was explored. Vines, which produce best in low moisture and low soil fertility environments, were seen as suitable for areas that had previously been marginal pasture. The end of the 1960s saw the end of the New Zealand institution of the "six o'clock swill", where pubs were open for only an hour after the end of the working day and closed all Sunday. The same legislative reform saw the introduction of BYO (bring your own) licenses for restaurants. This had a profound and unexpected effect on New Zealanders' cultural approach to New Zealand red wine.
Finally the late 1960s and early 1970s noted the rise of the "overseas experience," where young New Zealanders traveled and lived and worked overseas, predominantly in Europe. As a cultural phenomenon, the overseas experience predates the rise of the premium New Zealand red wine industry, but by the 1960s a distinctly Kiwi (New Zealand) identity had developed and the passenger jet made the overseas experience possible for a large numbers of New Zealanders who experienced first-hand the premium wine cultures of Europe.


New Zealand red wine regions are mostly located in free draining alluvial valleys (Hawke's Bay, Martinborough, Nelson, the Wairau and Awatere valleys of Marlborough, and Canterbury) with notable exceptions (Waiheke Island, Kawarau Gorge in Central Otago). The alluvial deposits are typically the local sandstone called greywacke, which makes up much of the mountainous spine of New Zealand.
Sometimes the alluvial nature of the soil is important, as in Hawke's Bay where the deposits known as the Gimblett Gravels represent such quality characteristics that they are often mentioned on the New Zealand red wine label. The Gimblett Gravels is an area of former river bed with very stoney soils. The affect of the stones is to lower fertility, lower the water table, and act as a heat store that tempers the cool sea breezes that Hawke's Bay experiences. This creates a significantly warmer meso-climate.
Another soil type is represented in Waipara, Canterbury. Here there are the Omihi Hills which are part of the Torlesse group of limestone deposits. Viticulturalists have planted Pinot Noir here due to French experience of the affinity between the grape type and the chalky soil on the Côte-d'Or. Even the greywacke alluvial soils in the Waipara valley floor has a higher calcium carbonate concentration as can be witnessed from the milky water that flows in the Waipara River.
The Kawarau valley has a thin and patchy top soil over a bed rock is schist. Early vineyards blasted holes into the bare rock of north facing slopes with miners caps to provide planting holes for the vines. These conditions necessitate irrigation and make the vines work hard for nutrients. This, low cropping techniques and the thermal effect of the rock produces great intensity for the grapes and subsequent wine.
The New Zealand red wine regions stretch from latitudes 36°S in the north (Northland) (comparable in latitude to Jerez, Spain), to 45°S (Central Otago) in the south (comparable in latitude to Bordeaux, France). The climate in New Zealand is maritime, meaning that the sea moderates the weather producing cooler summers and milder winters than would be expected at similar latitudes in Europe and North America. Maritime climates tend also to demonstrate higher variability with cold snaps possible at any time of the year and warm periods even in the depth of winter. The climate is typically wetter, but New Zealand red wine regions have developed in rain shadows and in the east, on the opposite coast from the prevailing moisture-laden wind. The New Zealand red wine regions tend to experience cool nights even in the hottest of summers. The effect of consistently cool nights is to produce fruit which is nearly always high in acidity.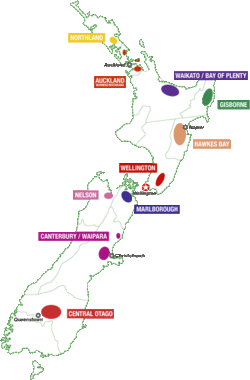 Northland
The most northerly wine region in New Zealand, and thus closest to the equator.
Auckland
This region lies around New Zealand's largest city.
Waiheke Island
Waiheke Island is east of Auckland in the Hauraki Gulf. For New Zealand it has a dry and warm meso-climate. Its red wine is significantly riper and more full bodied. The area produces a bordeaux blend called the Larose, one of the most expensive and prestigious New Zealand red wines.
Waikato/Bay of Plenty
This area is also known for growing kiwifruit and apples.
Gisborne
A small wine region to the north of Hawkes Bay. Noted for its Chardonnay and Gewürztraminer. It is also the worlds most easterly vineyard.
Hawkes Bay
Hawkes Bay, along with Marlborough, is the centre of gravity for the New Zealand red wine industry; it is New Zealand's oldest wine producing area and is the country's second largest wine production region. The premiere area for bordeaux blend reds in New Zealand and a promising area for Syrah and Malbec. Chardonnay and Sauvignon Blanc are produced and lately Viognier.
Wellington/Wairarapa
The Wellington/Wairarapa wine-growing region is one of New Zealand's smallest, with several sub-regions, which include Gladstone, Martinborough, Masterton, and Opaki. Martinborough was the original area planted, on the basis of careful scientific study, in the 1970s, which identified its soils and climate as perfectly suited to the cultivation of Pinot Noir. As a consequence, many of the vineyards established there are older than their counter-parts in the rest of the Wairarapa. Subtle differences are seen in the wines from the South Wairarapa (which includes Martinborough), which has more maritime influences, to those grown further north.
Martinborough
Martinborough is a small wine village located at the foot of New Zealand's North Island, in the South Wairarapa, just 1.5 hours drive from Wellington, the capital city. The combination of topography, geology, climate and human effort has led to the region becoming one of New Zealand's premier wine regions in spite of its small size. Less than 2% of the country's wine production is grown in Martinborough, yet in shows and competitions, it rates much more highly. The local Winegrowers organisation states: ellington/Wairarapa is small in production terms but makes a large contribution to the country's quality winemaking reputation.The vineyards are shielded from the elements by steep mountains, while the growing season from flowering to harvest is amongst the longest in New Zealand. Naturally breezy conditions control vine vigour, creating lower yields of grapes with greater intensity. A genuine cool climate, with a long, dry autumn in NZ, provides an ideal ripening conditions for Pinot Noir and other varietals, such as Riesling, Syrah and Pinot Gris. A small number of wineries are producing Cabernet Franc of a high standard. Most of the wineries are located on the area's alluvial river terraces near the township (the Te Muna, Huangarau and Dry River Regions).
Martinborough wineries are relatively small and typically family-owned, with the focus on producing quality rather than quantity. Relatively small yields enable Martinborough winemakers to devote themselves to handcrafting superior wines. Among the many long-established wineries, several, have become internationally recognised as premium producers of Pinot Noir.
Nelson
Many people believe Nelson has the best climate in New Zealand, as it regularly tops the national statistics for sunshine hours, with an annual average total of over 2400 hours.
Marlborough including Wairau Valley
In many respects, the Wairau Valley and the districts surrounding Blenheim are the home of the modern New Zealand wine industry. It is the largest wine district in terms of production and area under vines. It has a number of sub-regions including the Waihopai valley, Renwick and the Spring Creek area.
Canterbury/Waipara
Omihi Hills and Waipara
The most northerly subregion of Canterbury. In many respects the most promising Canterbury area for Pinot Noir.
South of Waipara, Amberley and North of Christchurch
Amberley is a few kilometres south of the Waipara River. It produced a break-through Riesling for Corbans in the early eighties, but recently it has diminished in production.
West Melton, Banks Peninsula and Rolleston
Wines are typically white including Chardonnay, Sauvignon Blanc, Riesling, Gewürztraminer, Pinot Blanc, Pinot Noir and Pinot Gris.
Central Otago
The most southerly wine producing region in the world. The vineyards are also the highest in New Zealand at 200 to 400 metres above sea level on the steep slopes of lakesides and the edges of deep river gorges, often also in glacial soils. Central Otago is a sheltered inland area with a continental microclimate characterised by hot, dry summers, short, cool autumns and crisp, cold winters.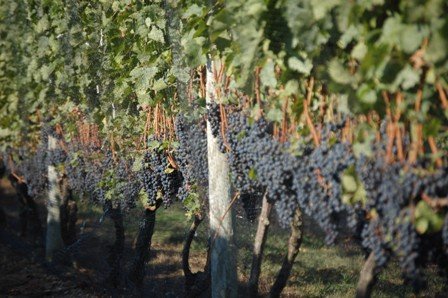 Wines
New Zealand red wines are typically made from a blend of varietals (Cabernet Sauvignon, Merlot, and much less often Cabernet Franc, Petit Verdot and Malbec), or Pinot Noir. Recently, in Hawkes Bay, there have been New Zealand red wines made from Syrah, either solely or blends, as well as Tempranillo, Montepulciano and Sangiovese.
Early success in Hawkes Bay in the 1960s by McWilliams, and in the 1980s by Te Mata Estate, led to New Zealand red wine grape planting and production concentrating on Cabernet Sauvignon by Corbans, McWilliams, and Mission Estate, among many others. As viticultural techniques were improved and tailored to New Zealand's maritime climate, more Merlot and other Bordeaux-style grapes were planted, with quality and quantity increasing. This trend continues and can be seen in the New Zealand Wine Institute statistics indicating that plantings of Cabernet Sauvignon, Merlot, Cabernet Franc, Malbec and Syrah now account for 2,496 hectares.
Typically, Bordeaux blends come from regions and sub-regions of New Zealand that are relatively hot and dry. 86% of production is centered in Hawke's Bay, with Waiheke Island also producing some notable wines. Wineries that have made a name for Waiheke Island include Stonyridge Larose and Goldwater Estate. Wines that typify the best of Hawkes Bay include Te Mata Estate's Coleraine and Awatea, Craggy Range's Sophia, Newton Forrest Estate's Cornerstone, Esk Valley's The Terraces and Villa Maria's Reserve Merlot and Cabernet. In Marlboroughm there are also a small number of producers of Bordeaux-style varietal wines.
However, examples of Bordeaux blends can be found as far south as Waipara, in Canterbury where Pegasus Bay's Maestro has demonstrated a drift away from Cabernet Sauvignon predominant blends to Merlot predominant with the addition of Malbec.
In general New Zealand red wine tends to be forward and early maturing, fruit-driven and with restrained oak. No definitive regional characteristics have developed in New Zealand, the principal differences between wines being determined by the vintage, vineyard and wine-maker's philosophy. However, some preliminary trends are worth commenting on. Central Otago wines particularly Bannockburn pinot noir can have distinct earthy, mineral and wild thyme notes. Hawkes Bay bordeaux blends have greater body than other New Zealand reds. Marlborough Pinot Noirs are notable for their ripeness and fruitiness.
Pinot Noir
Pinot Noir is a grape variety whose importance in New Zealand is greater than the weight of planting. Early in the modern wine industry (late 1970s early 1980s), the comparatively low annual sunshine hours to be found in NZ discouraged the planting of red varieties. But even at this time great hopes were had for Pinot Noir. Initial results were not promising for several reasons, including the mistaken planting of Gamay and the limited number of Pinot Noir clones available for planting. One notable exception was the St Helena 1984 Pinot Noir from the Canterbury region. This led to the belief for a time that Canterbury might become the natural home for Pinot Noir in New Zealand. While the early excitement passed, the Canterbury region has witnessed the development of Pinot Noir as the dominant red variety. The sub-region Waipara has some interesting wines.
The next region to excel with Pinot Noir was Martinborough on the southern end of the North Island. Several vineyards consistently produced interesting and increasingly complex Pinot Noir at the end of the 1980s and into the 1990s.
At around this time the first plantings of Pinot Noir in Central Otago occurred in the Kawarau Gorge. Central Otago had a long (for New Zealand) history as a producer of quality stone fruit and particularly cherries. Significantly further south than all other New Zealand red wine, it had been overlooked despite a long history of grape growing. However, it benefited from being surrounded by mountain ranges which increased its temperature variations both between seasons and between night and day making the climate unusual in the typically maritime conditions in New Zealand. In recent years Pinot Noir from Central Otago has won numerous international awards and accolations making it one of New Zealand's most sought-after varieties.
The first vines were planted using holes blasted out of the north facing schist slopes of the region, creating difficult, highly marginal conditions. The first results coming in the mid to late 1990s excited the interest of British wine commentators, including Jancis Robinson and Oz Clarke. Not only did the wines have the distinctive acidity and abundant fruit of New Zealand wines, but they demonstrated a great deal of complexity, with aromas and flavours not common in New Zealand wine and normally associated with burgundian wine. Producers include Felton Rd, Chard Farm and Mt Difficulty.
The latest sub-region appears to be Waitaki, on the border between Otago and Canterbury.
As is the case for other New Zealand wine, New Zealand Pinot Noir is fruit-driven, forward and early maturing in the bottle. It tends to be quite full bodied (for the variety), very approachable and oak maturation tends to be restrained. High quality examples of New Zealand Pinot Noir are distinguished by savoury, earthy flavours with a greater complexity.

---
New Zealand Red Wine go to:
Thank you Wikipedia for the contents on this page.



---
Return from New Zealand Red Wine to Types of Red Wine

Return from New Zealand Red Wine to Red Wine Home