Pinot Noir Most Delicate Grapes to the Most Outstanding Red Wines
Pinot Noir - The name is derived from the French words for "pine" and "black" alluding to the grape variety's tightly clustered dark purple pine cone-shaped bunches of fruit.
Pinot noir grapes are grown around the world, mostly in the cooler regions, but the grape is chiefly associated with the Burgundy region of France. It is widely considered to produce some of the finest wines in the world, but is an extremely difficult variety to cultivate and transform into wine.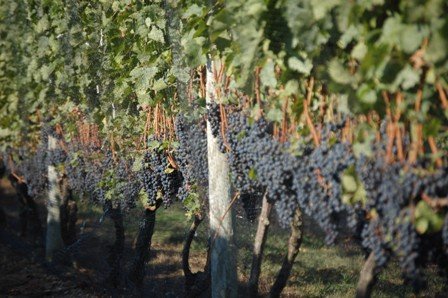 Pinot noir thrives in France's Burgundy region, particularly on the Côte-d'Or which has produced some of the world's most celebrated wines for centuries. It is also planted in Austria, Argentina, Australia, Canada, Chile, north parts of Croatia, the Republic of Georgia, Germany, Italy, Hungary, the Republic of Macedonia, Moldova, Romania, New Zealand, South Africa, Serbia, Slovenia, Switzerland, Bulgaria, Czech Republic, United States, Uruguay, Ukraine and Slovakia. The United States has increasingly become a major Pinot noir producer, with some of the best regarded coming from the Willamette Valley in Oregon and California's Sonoma County with its Russian River Valley and Sonoma Coast appellations. Lesser known appellations can be found in Mendocino County's Anderson Valley as well as the Central Coast's Santa Lucia Highlands appellation and the Sta. Rita Hills American Viticultural Area in Santa Barbara County. In New Zealand, it is grown in Martinborough, Marlborough, Waipara and Central Otago.
The leaves of Pinot noir are generally smaller than those of Cabernet Sauvignon, but larger than those of Syrah. The grape cluster is small and cylindrical, vaguely shaped like a pine cone. Some viticultural historians believe this shape may have given rise to the name. Pinot noir tends to produce narrow trunks and branches. In the vineyard it is sensitive to light exposure, cropping levels (it must be low yielding), soil types and pruning techniques. In the winery it is sensitive to fermentation methods, yeast strains and is highly reflective of its terroir with different regions producing very different wines. Its thin skin makes it highly susceptible to bunch rot and other fungal diseases. The vines themselves are prone to downy mildew, leaf roll, and fanleaf. These complications have given the grape the reputation of being difficult to grow: Jancis Robinson calls Pinot a "minx of a vine" and André Tchelistcheff declared that "God made Cabernet Sauvignon whereas the devil made Pinot noir."
However, Pinot wines are among the most popular in the world. Joel Fleischman of Vanity Fair describes Pinot noir as "the most romantic of wines, with so voluptuous a perfume, so sweet an edge, and so powerful a punch that, like falling in love, they make the blood run hot and the soul wax embarrassingly poetic." Master Sommelier Madeline Triffon calls pinot "sex in a glass".
The tremendously broad range of bouquets, flavors, textures and impressions that Pinot noir can produce sometimes confuses tasters. In the broadest terms, the wine tends to be of light to medium body with an aroma reminiscent of black cherry, raspberry or currant. Traditional red Burgundy is famous for its fleshy, 'farmyard' aromas, but changing fashions and new easier-to-grow clones have favoured a lighter, fruitier style. The grape's color when young, often compared to that of garnet, is often much lighter than that of other red wines. However, an emerging style from California and New Zealand highlights a more powerful, fruit forward and darker wine that can approach syrah in depth.
It is also used in the production of Champagne (usually along with Chardonnay and Pinot meunier) and is planted in most of the world's wine growing regions for use in both still and sparkling wines. Pinot noir grown for dry table wines is generally low-yielding and often difficult to grow well. Pinot noir grown for use in sparkling wines (e.g. Champagne) is generally higher yielding.
In addition to being used for the production of sparkling and still red wine, Pinot noir is also sometimes used for rosé still wines, and even vin gris white wines.


I recommend three regions to find the Pinot noir you will fall in love with immediately.

Oregon

France

New Zealand

Pinot noir when made right can accentuate the love of wine to levels thought unattainable.

Return from Pinot Noir to Types of Red Wine

Return from Pinot Noir to Red Wine Home

Robinson, Jancis (2006). The Oxford Companion to Wine, Third Edition. Oxford University Press.