Barbera, third most planted grape in Italy, number one in flavor
Barbera is a red Italian wine grape variety that, as of 2000, was the third most-planted red grape variety in Italy (after Sangiovese and Montepulciano). It produces good yields and is known for deep color, low tannins and high levels of acid (which is unusual for a warm climate red grape). Century-old vines still exist in many regional vineyards and allow for the production of long-aging, robust red wines with intense fruit and enhanced tannic content. The best known appellation is the DOCG (Denominazione di Origine Controllata e Garantita) Barbera d'Asti in the Piedmont region. When young, the wines offer a very intense aroma of fresh red and blackberries. In the lightest versions notes of cherries, raspberries and blueberries and with notes of blackberry and black cherries in wines made of more ripe grapes. Many producers employ the use of toasted (seared over a fire) oak barrels, which provides for increased complexity, aging potential, and hints of vanilla notes. The lightest versions are generally known for flavors and aromas of fresh fruit and dried fruits, and are not recommended for cellaring. Wines with better balance between acid and fruit, often with the addition of oak and having a high alcohol content are more capable of cellaring; these wines often result from reduced yield viticultural methods.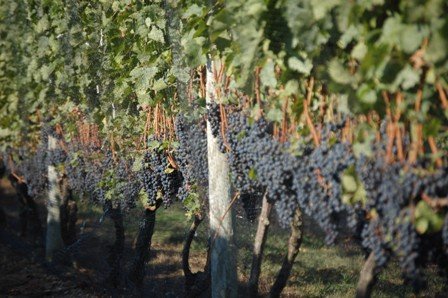 Winemakers working with Barbera have a variety of ways to deal with the grape's high levels of tannins and acidity. The most common has been through blending with varieties lacking those components and creating a softer and potentially more balanced wine as a result. In the 1970s, the French enologist Emile Peynaud recommended that Barbera producers use small oak barrels for fermentation and maturation in order to add subtle oak spice flavors and limited levels of oxygenation to soften the wine. The added oxygen would also limit the reductive quality of Barbera and limited the occurrence of off-odors of hydrogen sulfide that would occur in some examples. The polysaccharides picked up from the oak, was found to increase the richness of Barbera. At the time, his recommendation met some resistance from the tradition minded Barbera producers but the success of the "Super Tuscans" which introduced new oak barrel treatment to Sangiovese caused many producers to reconsider. In addition to the subtle oxygenation and spice notes, oak imparts to the wine ligneous wood tannins which give structure to the wine without adding as much astringent bite as the tannins derived from the phenolic compounds of the grape. This, coupled with reduced maceration time contributed to the production of softer wines. Lower yields and harvesting riper grapes with more fruit and sugar has been found to be a better balance for Barbera's high acidity.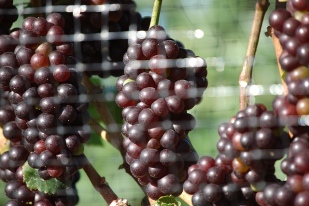 Northwest Italy is the viticultural home for Barbera, but Italian immigrants spread it through much of the New World, where its acidity is valued in blended wines for the 'freshness' it imparts. Barbera is found in the northwestern part of Italy, particularly in Monferrato, and to a lesser extent further south. Nearly half of all grape vine plantings in Piedmont are Barbera. It likes the same conditions as Nebbiolo, but the latter is more profitable, fetching nearly twice, so is grown on the best sites. The earlier-ripening Barbera is grown on the cooler lower slopes below the Nebbiolo, and other secondary locations. This explains why relatively little Barbera is grown around Alba, where the wines are entitled to the appellation Barbera d'Alba. Thus the best known Barbera is the DOCG of Barbera d'Asti. The Barbera del Monferrato DOC - which tends to be somewhat sparkling (frizzante) - is seldom exported.
Barbera came to Australia with cuttings imported from the University of California, Davis in the 1960s. It has been grown for ~25 years in the Mudgee region of New South Wales, with later plantings in a number of wine regions, including the King Valley in Victoria as well as the McLaren Vale and the Adelaide Hills regions in South Australia. John Gladstones, in his book Viticulture and Environment, includes Barbera in maturity group 5, which means that it will ripen at about the same time as Shiraz and Merlot, and that it should theoretically find a successful home in many Australian wine regions. Barbera went to Argentina with Italian immigrants. It is quite widely grown, but is used mostly for blending. As in Argentina, Barbera was brought by Italian immigrants to Brazil.
Thank you Wikipedia for the content on this page.



Return from Barbera to Types of red wine

Return from Barbera to red wine home