Zinfandel, Make it Old Vine to Make It Right.
Zinfandel is a variety of red grape planted in over 10 percent of California vineyards. DNA fingerprinting revealed that it is genetically equivalent to the Croatian grape Crljenak Kaštelanski, and also the Primitivo variety traditionally grown in the "heel" of Italy, where it was introduced in the 18th century. The grape found its way to the United States in the mid-19th century, and became known by variations of the name "Zinfandel", a name of uncertain origin.
The grapes typically produce a robust red wine.
The taste of the red wine depends on the ripeness of the grapes from which it is made. Red berry fruits like raspberry predominate in wines from cooler areas, whereas blackberry, anise and pepper notes are more common in wines made in warmer areas and in wines made from the earlier-ripening Primitivo clone.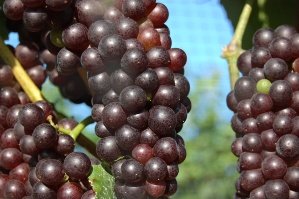 The arrival of Zin in the United States may have been via the Imperial Nursery in Vienna, Austria, which likely obtained the vines during the Habsburg Monarchy's rule over Croatia, which was expanded when Austria acquired the Dalmatian territories of the former Republic of Venice in 1797. George Gibbs, a horticulturist on Long Island, received shipments of grapes from Schönbrunn and elsewhere in Europe between 1820 and 1829. Sullivan suggests that the "Black Zinfardel of Hungary" mentioned by William Robert Prince in A Treatise on the Vine (1830) may have referred to one of Gibbs' 1829 acquisitions. Webster suggests that the name is a corruption of tzinifándli (czirifandli), a Hungarian word derived from the German Zierfandler, a white grape (Gruener Sylvaner) from Austria's Thermenregion.
Gibbs visited Boston in 1830, and Samuel Perkins of that city began selling "Zenfendal" soon afterward. In 1830, Gibbs also supplied Prince with "Black St. Peters", a similar variety may have come from England, where many vines have "St. Peters" in their names. Little is known about this vine, except that the Black St. Peters that arrived in California in the 1850s was the same as what became known as Zinfandel by the 1870s.
By 1835 Charles M. Hovey, Boston's leading nurseryman, was recommending this red wine as a table grape, and it was soon widely grown in heated greenhouses for the production of table grapes as early as June. The first reference to making wine from from this red wine grape appears in John Fisk Allen's Practical Treatise in the Culture and Treatment of the Grape Vine (1847). Meanwhile the fad of hothouse cultivation faded in the 1850s as attention turned to the Concord and other grape varieties that could be grown outdoors in Boston.

Prince and other nurserymen such as Frederick W. Macondray joined the California Gold Rush in the 1850s, and took this red wine grape with them. Prince's notebook records that the grape dried "perfectly to Raisin" and that he believed his Zin was the same as the "Black Sonora" he found in California. When the vine known as "Black St. Peters" arrived in California, it was initially regarded as a distinct variety, but by the 1870s it was recognized as the same grape as Zinfandel.
Joseph W. Osborne may have made the first wine from this red wine grape in California. He planted Zin from Macondray at his Oak Knoll vineyard just north of Napa, and his wine was much praised in 1857. Planting of this type of red wine vine boomed soon after, and by the end of the 19th century it was the most widespread variety in California.
These Zinfandel old vines are now treasured for the production of premium red wine, but many were ripped up in the 1920s, during the Prohibition years (1920–1933), but not for the obvious reason. Even during the Prohibition, home winemaking remained effectively legal, and some vineyards embraced the sale of grapes for making wine at home. While this type of red wine grapes proved popular among home winemakers living near the vineyards, it was vulnerable to rot on the long journey to East Coast markets. The thick-skinned Alicante Bouschet was less susceptible to rot, so this and similar varieties were widely planted for the home winemaking market. Three thousand cars (about 38000 t) of Zinfandel grapes were shipped in 1931, compared to 6000 cars of Alicante Bouschet.
By 1930, the wine industry had weakened due to the Great Depression and Prohibition. Many vineyards that survived by supplying the home market were located in California's Central Valley, a non-optimal environment for growing quality Red Zin. Thus, the end of Prohibition left a shortage of quality wine grapes, and this red wine sank into obscurity as most was blended into undistinguished fortified wines. However, some producers remained interested in making single varietal red wines.
By the middle of the 20th century the origins of California Zin had been forgotten. In 1972, one British wine writer wrote, "there is a fascinating Californian grape, the zinfandel, said to have come from Hungary, but apparently a cépage now unknown there." In 1974 and 1981, American wine writers described it as "a California original, grown nowhere else" and "California's own red grape".
In 1972, Bob Trinchero of the Sutter Home Winery decided to try draining some juice from the vats in order to impart more tannins and color to his Deaver Vineyard Zinfandel. He vinified this juice as a dry wine, and tried to sell it under the name of Oeil de Perdrix, a French wine made by this saignée method. The Bureau of Alcohol, Tobacco and Firearms insisted on an English translation, so he added "White Zinfandel" to the name, and sold 220 cases. At the time, demand for white wine exceeeded the availability of white wine grapes, encouraging other California producers to make "white" wine from red grapes, with minimal skin contact. However, in 1975, Trinchero's wine experienced a stuck fermentation, a problem in which the yeast dies off before all the sugar is converted to alcohol. He put the wine aside for two weeks, then tasted it and decided to sell this pinker, sugary wine. Just as Mateus Rosé had become a huge success in Europe after World War II, this medium sweet White Zinfandel became immensely popular. White Zinfandel still accounts for 9.9% of U.S. wine sales by volume (6.3% by value), six times the sales of red Zin. Most white Zinfandel is made from grapes grown for that purpose in California's Central Valley.
Wine critics considered white Zinfandel to be insipid and uninteresting in the 1970s and 1980s, although modern white Zins have more fruit and less cloying sweetness. Nevertheless, the success of this blush wine saved many old vines in premium areas, which came into their own at the end of the 20th century as red Zinfandel wines came back into fashion. Although the two wines taste dramatically different, both are made from the same (red) grapes, processed in a different way.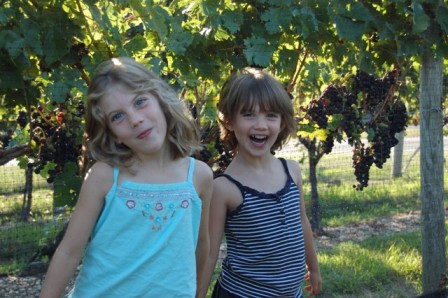 Zin vines are quite vigorous and grow best in climates that are warm but not too hot, because grapes may shrivel in hot weather. Zinfandel's thin-skinned grapes grow in large, tight bunches that are sometimes prone to bunch rot. The fruit ripen fairly early and produce juice with high sugar levels. If weather conditions permit, the grapes may be late-harvested to make dessert wine. This type of red wine is often praised for its ability to reflect both its terroir and its winemaker's style and skill.
The grapes are known for their uneven pattern of ripening: a single bunch may contain both raisin-like, over-ripe grapes and green, unripened grapes. Some winemakers choose to vinify the bunches with these varying levels of ripeness, while others hand-harvest the bunches, even by single berries, through multiple passes through the vineyards over several weeks. This extensively laborious practice is one component in the high cost of some Zinfandels.
This type of red wine have been criticized for being too "hot" (too alcoholic), although modern winemaking techniques have helped make them more approachable. On the other hand, Zinfandel producers such as Joel Peterson of Ravenswood believe that alcohol-removing technologies, such as reverse osmosis and spinning cones, remove a sense of terroir from the wine. If a wine has the tannins and other components to balance 15% alcohol, Peterson argues, it should be accepted on its own terms.
When grapes are harvested, the length of fermentation, the length of the maceration period with skin contact and the level of oak aging affect the wine's taste. The degrees Brix at which the grapes are harvested dramatically affect the wine's flavor as well.
Thank you Wikipedia for the information on this page.



Return from Zinfandel to Types of Red Wine

Return from Zinfandel to Red Wine Home