Lambrusco The Most Highly Rated is Slightly Sparkling.
Lambrusco is the name of both a red wine grape and an Italian wine made principally from the grape. The grapes and the wine originate from four zones in Emilia-Romagna and one in Lombardy, principally around the central provinces of Modena, Parma, Reggio nell'Emilia, and Mantua. The grape has a long winemaking history with archaeological evidence indicating that the Etruscans cultivated the vine. In Roman times, this red wine grap was highly valued for its productivity and high yields with Cato the Elder stating that produce of two thirds of an acre could make enough wine to fill 300 amphoras.
The most highly rated of its wines are the frothy, frizzante (slightly sparkling) red wines that are designed to be drunk young from one of the five Lambrusco denominazione di origine controllata (DOC) regions: Lambrusco Grasparossa di Castelvetro, Lambrusco di Sorbara, Lambrusco Salamino di Santa Croce, Lambrusco Reggiano, and Lambrusco Mantovano. Throughout the 1970s and 1980s, Lambrusco was the biggest selling import wine in the United States. During that time the wine was also produced in a white and rosé style made by limiting the skin contact with the must.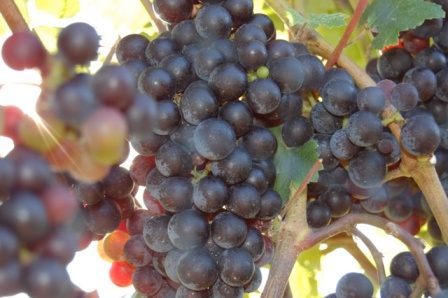 This red wine grape has shown itself prone to developing several clones and sub varieties to where there is no one singular "Lambrusco grape". The most commonly found clones are the Grasparossa, Maestri, Marani, Monstericco, Salamino and Sorbara. The grape vine are often trained high above the ground to prevent the development of mildew. Historically the vines were trained to climb up poplar trees. The grape itself is not particularly sweet but many of the sweet red wine grape are made by either partial fermentation or with the addition of the sweeter Ancellotta grapes to the blend. When not fermented sweet, the Lambrusco grape is capable of producing a dry wine with strawberry notes and a slight bitter finish.
By the end of the 20th century, ampelographers had identified over 60 varieties of Lambrusco scattered throughout Italy including-Piedmont, Sicily and the Veneto. The most widely planted variety is the Salamino clone.



Return from Lambrusco to Types of Red Wine

Return from Lambrusco to Red Wine Home