Domaine Borie de Maurel Cuvee Maxime is a Red Wine that will leave you speachless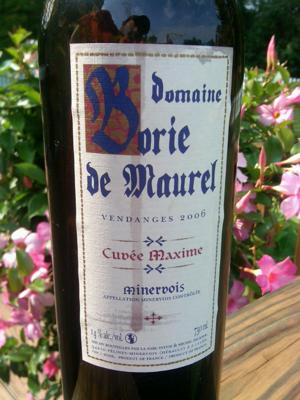 Domaine Borie de Maurel Cuvee Maxime
The 2006 Cuvee Maxime Made from 100% mourvadre grape variety is unearthed in the Lunguedoc region of France. This wine must be aerated, aerated, and aerated some more. You must taste this after each aeration if you have a single glass aerator, The bouquet and flavor changes dramatically. If you go straight from the bottle the palate s vapid. Gone in a second. You will work extremely hard to pull it all together, but if you let it sit and oxygenate the true beauty develops. The mourvadre begins an incredible balancing act that pulls at your heartstrings as balance is nearly lost. Confidence found. beauty, perfection, words cannot describe, but I will try.

Heavy grit clay builds the nose, with leather and molasses. The palate grips you with subtle dark berry notes with a pepper spice that lingers. This is not a "new world" wine. The tannins are tight but as the wine sits they become silk.

The wine could be stored for 10 plus years easy, but to enjoy now I beg you to aerate and aerate some more. The Domaine Borie de Maurel Cuvee Maxime is near greatness.
Join in and write your own page! It's easy to do. How? Simply click here to return to Review a Cheap Red Wine..